Cotton Bowl® Stadium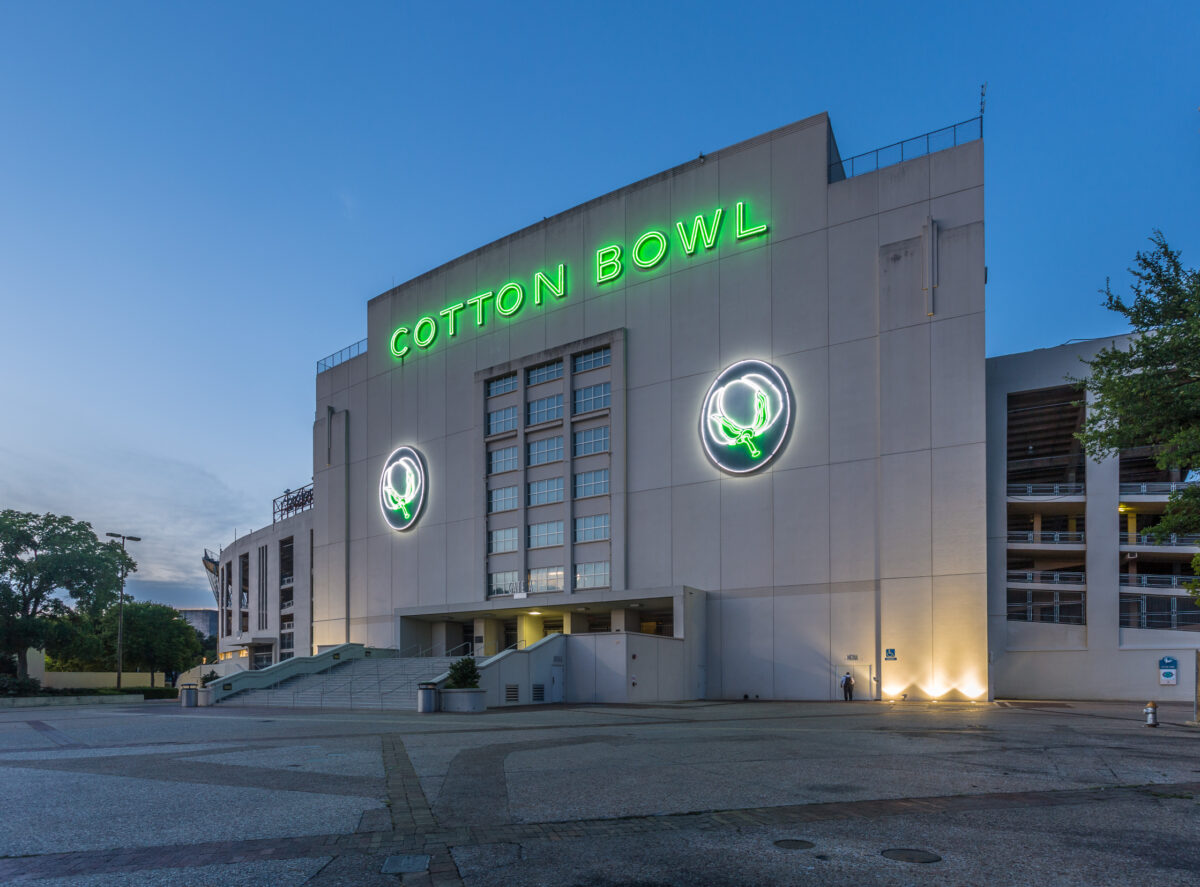 The Space
This historic landmark serves as the site of the annual Red River Showdown football game between the University of Texas and the University of Oklahoma and was the original home of the annual Cotton Bowl Classic from 1937 until 2009, when the game was moved to AT&T Stadium in Arlington in January 2010. From hosting the NFL Championship on January 1, 1967, to watching 23 Heisman Trophy winners take the field, Cotton Bowl® Stadium has seen its share of highlights in its 89 years. Today, the stadium has a capacity of more than 91,000-seats, making it the 10th largest football venue in the country.
However, this historic venue has played host to more than just American football games. The stadium hosted six World Cup games in 1994, was the home of the Dallas Tornado (NASL; 1967–68), FC Dallas (the Dallas Burn 1996-2004, FC Dallas 2005), and hosted a soccer match between Real Madrid and AS Roma in 2014. On January 1, 2020, Cotton Bowl® Stadium hosted the NHL's first outdoor hockey game in the south when the Dallas Stars took on the Nashville Predators in the 2020 Bridgestone NHL Winter Classic®.
The stadium has also hosted world-class entertainment. In 1956, a 21-year-old Elvis Presley attracted 27,000 fans to the stadium, at that time the largest crowd to attend an outdoor concert in Texas. In the late 1970s, the band Aerosmith recorded their first live concert in Cotton Bowl® Stadium. Meanwhile, during the 1980s, the Texxas Jam concert series in Cotton Bowl® Stadium featured such notable acts as Bruce Springsteen, Heart, Journey, Van Halen, Santana, and the Eagles, among others.
Find out more about uses, amenities, specifications, and availability by clicking here.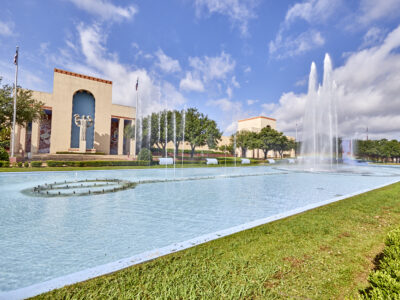 The Building
Fair Park covers 277-acres just east of downtown Dallas. Its cultural, historical and entertainment venues play host to visitors from around the world every day of the year.
The park opened in 1886 with what was called the Dallas State Fair. Several structures, including the Centennial Building and Cotton Bowl Stadium, made their debut on the grounds between 1900 and 1930.
But Fair Park really became a part of the nation's consciousness in 1936, when state leaders chose it to host a world's fair commemorating the 100th anniversary of the Texas Republic. Texas' history, economy, flora and fauna were highlighted in the buildings, statues, and murals designed for the event. Architects and artists came from all over the world to design a variety of elements that would establish the unique Art Deco throughout Fair Park.
Today, Fair Park stands as the only intact and unaltered pre-1950s world fair site in the United States. Between the art deco and architecture, the history, and the events, Fair Park reflects an all-in-one, unique destination for your event. Contact us today to find out more information.

Hours
Office Hours: Monday - Friday; 9a-5p
Parking
Public Transportation
Additional Files
All Listings at Fair Park