Studio No. 1- Sunset Art Studios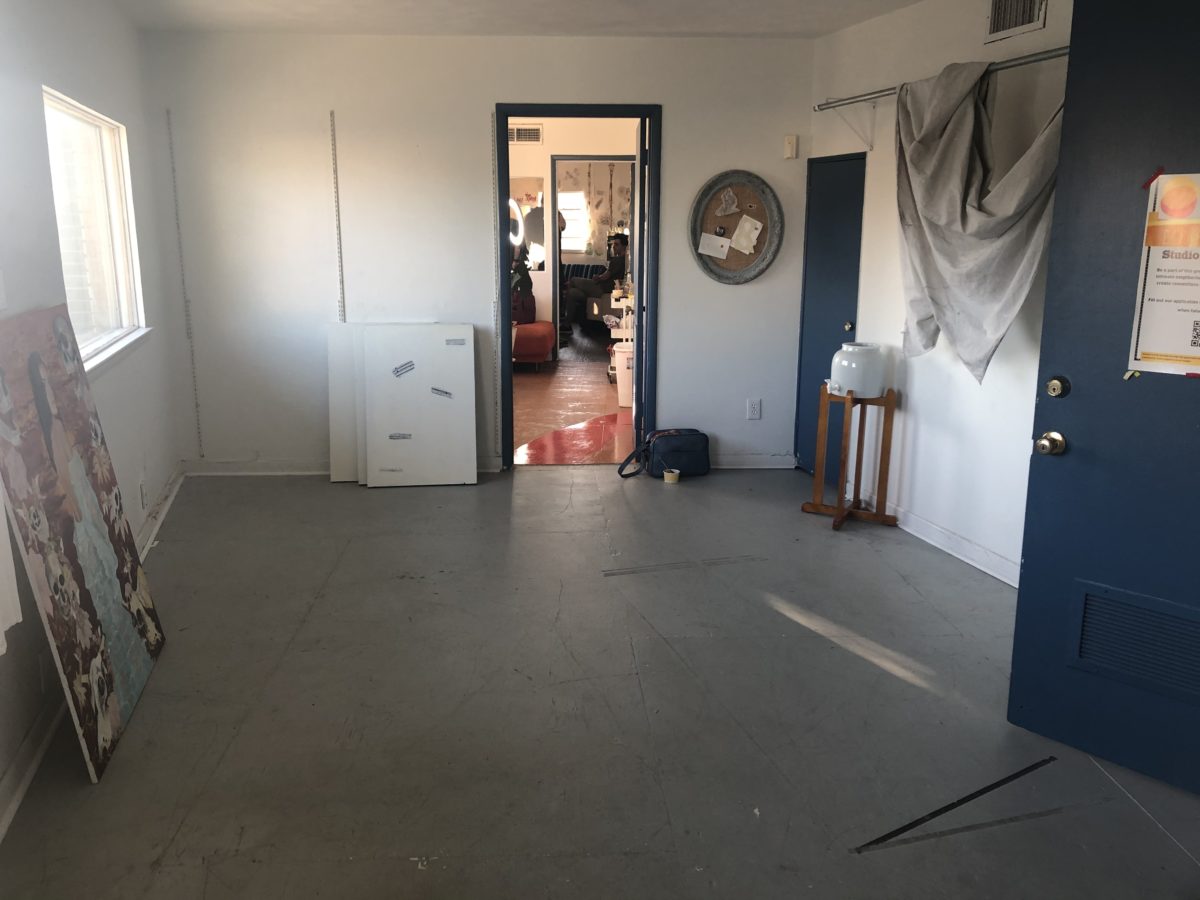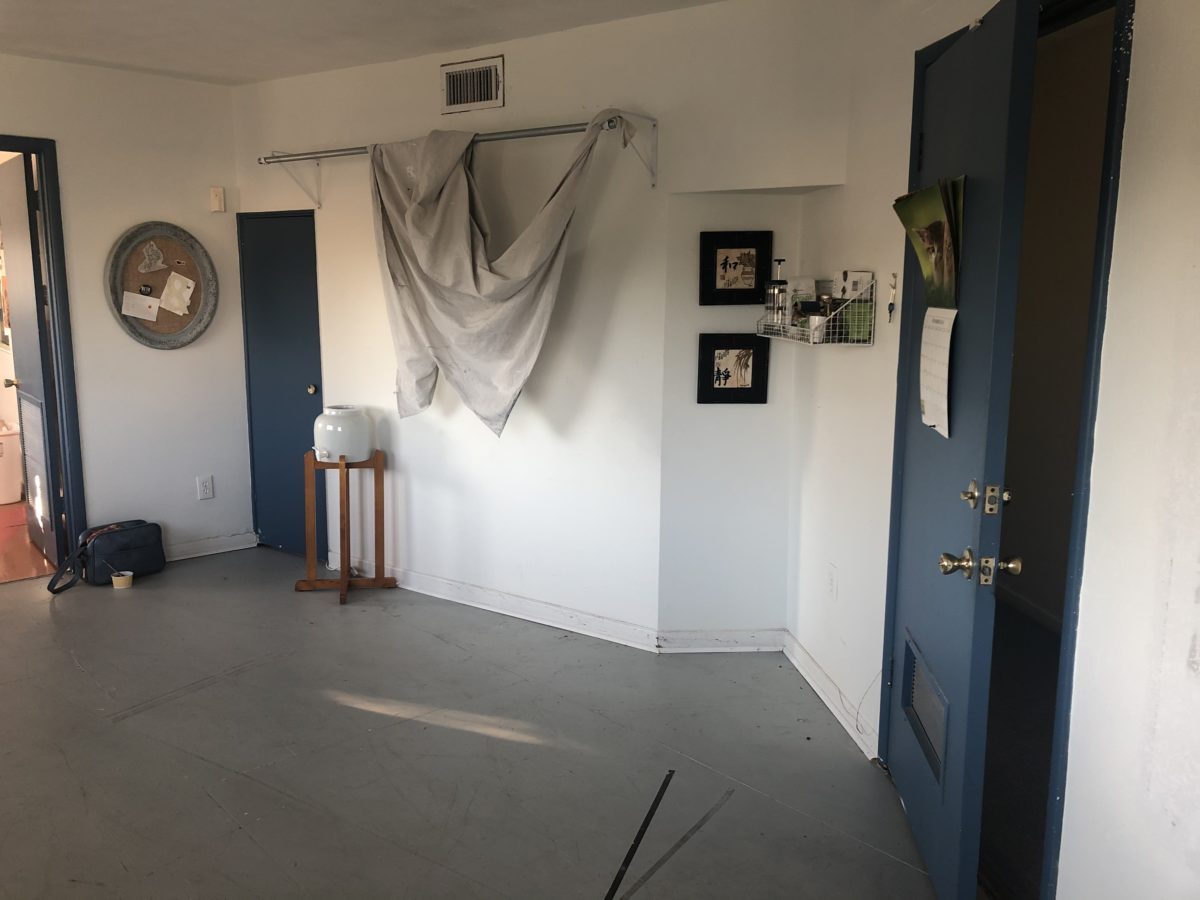 Dimensions
20 x 10 ft.
Square Footage
200 sq. ft.
Ceiling Height
8 ft.
Max Occupancy
20 persons
Accessibility
Accessible parking
Parking
Onsite parking (free)
Street parking (free)
Lighting
Natural lighting
Windows
Fluorescent
Walls
Sheetrocked and smooth
White
Hangable
Flooring
Wood floors
Other Qualities
Outdoor area
Type
Rehearsal, Studio Art
Disciplines
Theater, Music, Visual Arts, Photography, Film/Video
Production / Fabrication
Photography darkroom, Printmaking
The Space
Sunset Art Studios is a social practice studio that operates the Artist Sustainability Program. Through this program we rent affordable studio space to local artists for 6-month to 1-year leases with the option to renew. During this time Member Artists are included in monthly pot-luck studio dinners, quarterly crit nights, professional development as-needed, and an online Slack workspace. Studio No. 1 is a separate room integrated into communal suites. Also included in Suite A are Studios 2-5, which are only accessible through Studio 1. All studios include HVAC, WIFI, and 24/7 access.
Sunset is an inclusive, welcoming space that supports critical dialog and artistic rigor. We encourage artists to apply to our space who are looking for a supportive community. We encourage artists and artist groups to apply, especially those identifying as members of the LGBTQ+ community, and/or women, and/or people of color.
At this time we are not able to host artists working in any toxic chemicals, oil-based paints, processes that utilize open flame, or kiln-fired ceramics.
Monthly Rental
$450 per month
Rental Requirements
Any artists seeking to rent space must apply through http://www.sunsetartstudios.co...
Rules & Regulations
Sunset Art Studios operates a sublease system from building management.
Language. The words "Sublessor" and "Sublessee" as used herein include the plural as well as the singular; the language in this Sublease intends no regard for gender.
Liability. Sublessee agrees to surrender and deliver to the Sublessor the premises including all furniture and decorations within the premises in the same condition as they were at the beginning of the term with reasonable wear and tear accepted. The Sublessee will be liable to the Sublessor for any damages occurring to the premises, the contents thereof, the living areas, including any common spaces. All actions conducted by any guests of the Sublessee are the responsibility and liability of the Sublessee.
Guests. Guests of the Sublessee are allowed for periods not lasting for more than forty-eight hours unless otherwise approved by the Sublessor.
Security Deposit. Not required for the Sublease.
Master Lease. This Sublease must follow and is subject to the original lease agreement between the Sublessor and Landlord, a copy of which has been attached, and is hereby referred to and incorporated as if it were set out here at length.
The Sublessee agrees to assume all of the obligations and responsibilities of the Sublessor under the original lease for the duration of the Sublease.
Disputes. If a dispute arises during or after the term of this Sublease between the Sublessor and Sublessee, they shall agree to hold negotiations amongst themselves before any litigation.
Written Agreement. This Sublease constitutes the sole agreement between the Sublessor and Sublessee with no additions, deletions, or modifications that may be accomplished without the written consent of both parties.
Smoking Policy. Smoking on the Premises is not allowed in the Premises or any common areas.

Landlord's Consent. The original lease between the Landlord and Sublessor: does allow subletting.
Governing Law. Any Sublease shall be bound to the laws in the State of Texas.

Additional Terms or Conditions. All tenants must abide by SAS policies and contribute to a safe and inclusive space.
Artist will be loaned 1 key to access STUDIO space. This key may not be loaned to or borrowed by anyone other than ARTIST.
Artists have 24/7 access to STUDIO space, respecting terms of STUDIO lease including:

No excessive noise
No damage to property of STUDIO, including property of other artists
No damage to Balboa Place neighbor properties
No alterations to the studio space without express permission from STUDIO
No installations within the space without express permission from STUDIO
No events without consent of STUDIO

Any installation during the length of the lease must be deinstalled and space repaired subject to approval of STUDIO by last date of lease.
No food or drink may be left in STUDIO space creating a dirty or unhygienic working environment. All food and drink will be stored in Common Break Room at Balboa Place.
No open flame or oil-based materials permitted.
ARTIST is welcome to bring well-behaved, socialized pets into STUDIO during personal work time. ARTIST must receive written approval via email or text to bring any animals to STUDIO space during publicly accessible events. Pets will be removed if displaying aggressive behaviors towards other animals, neighbors within Balboa Place, STUDIO members, etc.
ARTIST is subject to immediate termination of lease if work by or associated with ARTIST is presented to the public under STUDIO identity or brand indicating ARTIST as proprietor, administrator, employee, or any position other than Member of STUDIO.
ARTIST is subject to immediate termination of lease if ARTIST or guests of ARTIST act violently, aggressively, or abusively to members of STUDIO, neighbors, or members of the public as determined by STUDIO.
Rental/Proposal Process
Terms are 6-month to 1-year leases. Applications are accepted on a rolling basis at http://www.sunsetartstudios.co...
Cancellation Policy
A 50% deposit is due upon signing of the lease. First month's rent is due on move-in day. Cancellation of lease forfeits total deposit amount and any rent allocated for the remainder of that month.
The Basics
Utilities included
Shared bathrooms
Heating
Air conditioned
Wireless Internet
Utility / work sink
Kitchenette
Catering
Alcohol allowed
Self catering allowed
Additional Info
Print studio is available by appointment.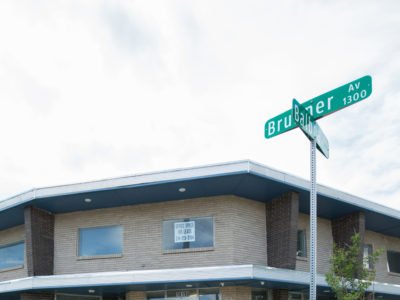 The Building
Sunset Art Studios is a non-profit studio in Dallas, TX focused on social practice.
Through our work we operate an artist-run studio space, residency and gallery where we focus on object-making and the artistic process as access points for empowerment. We are always working to create sustainable systems of celebratory inclusion and support.
Since co-directors Emily Riggert and Rachel Rushing opened in May of 2016, Sunset Art Studios has increased access to the arts in southern Dallas with area partners.
We do this by providing free studio space to artists who identify as a part of marginalized groups and offering free community arts programming to reduce geographic and social barriers of seeing and engaging with art.
Sunset Art Studios continues to evolve and grow prioritizing the need to explore and resist systemic exclusion from the arts. Our strategy for fighting against traditional hegemony in the art world (re: white supremacy and the patriarchy) is made of an inclusive artist sustainability program, residency program, and public programming.
Hours
By appointment or during public events.
Parking
Street parking and a small parking lot in the back of the building
Public Transportation
A 10 minute walk from the Red Line Tyler Station and very close to DART bus 42 stop at Edgefield and Ferndale.
Additional Files
All Listings at Sunset Art Studios