Theatre Too!
Medium availability

Daily rental available

Weekly rental available

Monthly rental available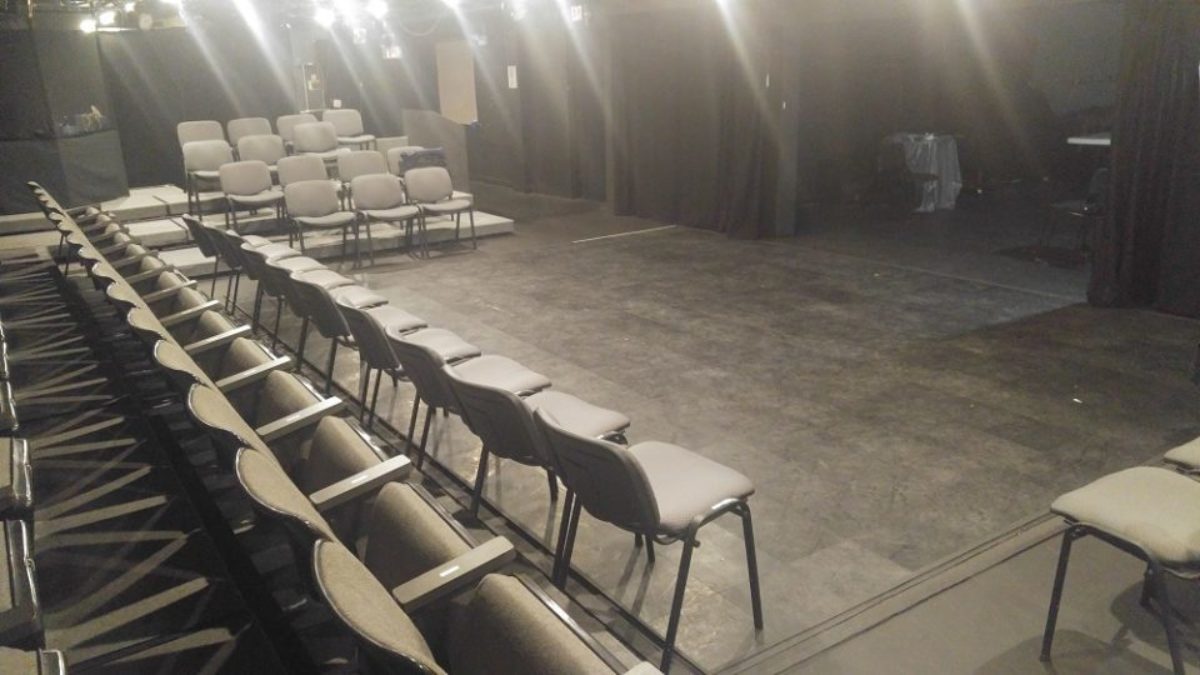 Dimensions
53 x 33 ft.
Square Footage
1800 sq. ft.
Ceiling Height
8 ft.
Parking
Onsite parking (free)
Street parking (free)
Parking garage / parking lot nearby
Lighting
Fluorescent
Lighting grid
Walls
Cement / Concrete
Flooring
Marley
Concrete
Stage
Thrust
Black box
Seating
Fixed seating
Risers
Performance Space
Lobby
Backstage
Dressing rooms
Showers
Type
Performance, Rehearsal, Exhibition, Meetings / Meetups, Workshops / Classes, Events, Readings
Disciplines
Dance, Theater, Music, Visual Arts
The Space
Located downstairs in Theatre Three's Quadrangle facility, Theatre Too! is a unique black box theatre with 85 seats. Theatre Too! is ideal for small productions, corporate meetings, workshops, auditions, rehearsals or small lectures. Capacity is dependent upon event and set-up.
Please note that we do not have an elevator and this basement space is not wheelchair accessible.


Daily Rental
Contact the space for rates
Weekly Rental
Contact the space for rates
Monthly Rental
Contact the space for rates
Rental Requirements
Renter is required to carry Commercial General liability insurance. The certificate of Insurance shall include but is not limited to: Premises/Operations, Personal & Advertising Injury, Products/Completed Operations, Independent Contractors and Contractual Liability, with minimum combined bodily injury (including death) and property damage limits of $500,000 per occurrence, $1,000,000 annual aggregate.
Rules & Regulations
Outside Rental Groups are not allowed to change, or move, the existing production set or lighting plot without the written consent of the theatre's Artistic Director, Managing Director, or Company Manager.
Rental/Proposal Process
Rental process is first come first serve. Request must be made a minimum three weeks in advance of the event.
Cancellation Policy
Renters must submit a non-refundable one-third deposit to reserve.
The Basics
Utilities included
Shared bathrooms
Air conditioned
220 volt power
Equipment
Sound system
Sound booth
Lighting equipment (Theatrical)
Lighting board
Tables and chairs
Instruments
Catering
Bar available
Concessions
Additional Info
Concessions and bar staffing are provided at an additional fee.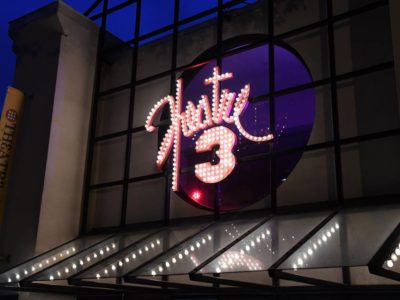 The Building
Theatre Three (T3) was founded by Norma Young, Jac Alder, Esther Ragland, and Roy Dracup in 1961, first performing seasons of acclaimed theatre at the Sheraton Hotel. In time, the organization needed more space and moved to a renovated factory space in Deep Ellum. In 1969, the organization leased its current space in Uptown in the Quadrangle. In 1985, Theatre Three purchased the building and underwent extensive remodeling.
Theatre Three illuminates the human experience with exemplary, intimate theatre by nurturing authors, artists and audiences. Theatre Three is a recognized pillar of the North Texas arts community ― enriching lives by bringing audiences engaging, provocative, and professionally produced theatrical experiences in an intimate space.


Hours
Our box office is open 12pm-5pm Tuesday through Sunday.
Parking
Theatre Three patrons have two options for parking:
PARK FREE in the Quadrangle Tower parking garage (under the Quadrangle's office tower – entering down the drive just off Routh Street on LaClede.) Parking spaces in this well-lit garage are always plentiful but you may not park in any space marked RESERVED. After parking, guests ride up in the tower elevator to the lobby and exit into the fountain courtyard, right next to the theatre. On your stroll enjoy the beautifully lit fountains, the enhanced, colorful plantings and the popular indoor-outdoor Italian dining spot, MoMo's. In order to use the elevator after the performance, patrons need to hit the buzzer marked "Theatre Three".
PARK FREE in the Amli Quadrangle Garage (on the ground floor underneath the Amli Apartments on the end of the Quadrangle furthest from Routh Street). The short stroll from that parking takes you past the popular indoor-outdoor American dining spot, Dream Café.
To avoid towing, please park in areas that are not marked for other retail shops.
Public Transportation
Theatre Three is located in the heart of Uptown Dallas in the Quadrangle – a shopping center and office tower at the corner of Routh and Howell Streets. Just 2 blocks away from McKinney and the M line trolley.
Accessibility
Theater Three offers wheelchair accessibility for our patrons. Please contact the box office at 214-871-3300 for information on seating. Theatre Too is NOT accessible. Patrons with limited mobility wishing to see a show in Theatre Too should contact Wesley Farnsworth or Angelica Rollins 214-871-3300 ext 1.
Need an assisted listening device? Theatre Three has recently installed a new state of the art assisted listening system with brand new devices. We have three different headsets: single ear, double, and neck loops that are compatible with cochlear implants. Just check one out at the box office when you arrive!


Security
The Quadrangle has security personnel and video cameras posted through out the area.
Additional Files